I'm Sara, the person behind ForrSsa.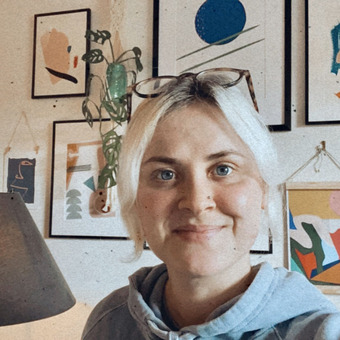 I create original abstract art and colourful digital prints for new homeowner/renters to express their creativity and make their house/flat feel like home.
I've always felt like art held me at arms length. It felt as though it was for someone else, I could look from afar, but that was all.
So, when I set up ForrSsa, it was really important that my original art was affordable and accessible for everyone.
I'm inspired by all sorts. It's difficult to choose but if I had to I'd have to say that colour, geometric shapes and texture play a big part. I love experimenting and trying different techniques.
So, if you've just got a brand new abode or you're looking to refresh some tired walls, you've come to the right place!
All of my prints are printed on 100% recycled paper. Everything I use to pack your prints is 100% recycled, recyclable or reusable. Even the 'cellophane' bags are bio-degradable and compostable.
My original paintings are on acid free paper, and recycled where possible!
Although I my best to make sure the colours shown online are accurate, please note that actual colours may vary.
If you have any questions or you would like to commission a design or painting please don't hesitate to send me a message.
Head on over to Instagram to get to know me better, I hope to see you there x